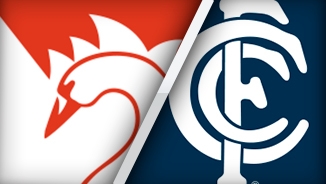 ---
Join us for a small group outing using public transport to the Melbourne Cricket Ground (MCG) to see Carlton Vs Sydney.
What's involved?
Travel on public transport.
Some walking will be involved e.g. to and from train station.
The environment can be loud, noisy and crowded.
Waiting in lines.
Please call if you have questions about whether this is the right activity for your child.
Places limited. Registration closes Friday 14th April 2017.
Activity Details
Date: Saturday 29th April 2017
Time: 12:00pm (midday) - 6:00pm.
Drop off / Pick up location: Reservoir Train Station, Spring Street, Reservoir.
Eligibility: Children / young people 15+yo (age negotiable) residing in the North East Melbourne area (Yarra, Banyule, Nillumbik, Whittlesea, Darebin, Hume and Moreland). Activities are suitable for participants who can be supported in a 1:2 ratio. If you require higher support ratio, please phone to discuss your support needs.
Participants must be registered with Extended Families. If you are not registered, contact our Intake Coordinator on 9355 8848 or booking@extendedfamilies.org.au.
What to bring: Lunch, snacks, water, myki and companion card
Activity cost: General Admission Ticket - $25 Adult, $17 Concession. Participants without a companion card will need to cover myki fee ($6.00) and adult ticket ($25) for a supporting adult. Activity costs are payable at time of booking.
Direct support cost:
For participants who do not yet have individualised funding (NDIS plan or ISP), we offer a subsidised rate of $15 per hour for direct support costs. This is in addition to any relevant activity cost. Note: People on Centrelink benefits who do not yet have individualised funding may talk to us about further possible subsidy.
Support costs for participants with an NDIS plan or ISP are based on NDIS pricing for 'Group based community, social and recreational activities - Saturday' at a staffing ratio of 1:2. If you require a higher staffing ratio, please call us to discuss.
NDIS participants will be contacted to arrange a service agreement. Participants with an ISP or no individualised funding will be sent an invoice after the event.
For more information contact recreation@extendedfamilies.org.au or 9285 4839.
Event location