Additional Carer Respite
---
Extended Families is pleased to announce that we have received funding from the Victorian State Government to develop additional respite for carers of people with a disability. We are one of 55 respite projects will share in $9.5 million of additional funding (a further $2 million will be allocated to help unpaid carers access employment and training).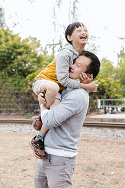 The Extended Families projects will create additional flexible respite through a 'Rebalance Program'; develop a unique siblings program for Vietnamese young people and provide two family day escapes. The day camps this year will specifically focus on the Vietnamese and Chinese communities.
We are already underway and the project will take place over the next 6 months.
We thank the Victorian Government for the opportunity to create additional respite options that meet specific needs; enable a range of carers to take
a break and look after themselves and to expand social and recreational opportunities.
Across Victoria, more than 726,000 carers give their time and effort to look after a family member or friend who needs them, whether due to chronic
disease, mental illness, disability or old age.
More details on the creative respite options being developed by Extended Families.
Rebalance Respite

In this program initial assessments will identify key stressors which add further burden to individual carers and present barriers to accessing rest and relaxation from their caring role.
Unique individualised respite solutions will include:
Up to 20 hours of specialised respite (by existing Extended Families workers already screened and skilled in working with children with disabilities);
Support to access specific carer relaxation/recreational activities;
Support to have a service provider engage in other tasks causing carer stress such as house spring cleaning.
Rebalance will use brokered services if requested by the carer for example if there is an existing care relationship.
Up to 50 Carers across metro Melbourne and the Mornington Peninsula will benefit from this program.
Carer Day Escapes

This program will be a fully catered and resourced supportive family experience with opportunity for carers and children to enjoy recreation together, and concurrent activities enabling carer nurturing and peer support. The day will be a 'special day' for all participants. Specialised respite care from Extended Families staff and volunteers will be provided for children with disabilities attending camp as required.
Two Day Away Escapes will be offered – one in the Northwest (focus on the Vietnamese Community) and one in the Southeast (focus on Chinese community) metro regions. Up to 60 Carers and their immediate families will benefit from this program. Children with disabilities and siblings aged up to 18 years may attend with their carer.
Vietnamese Young Carer's Group ("VƯƠN CAO" PROGRAM)
This group will meet regularly with support of two community inclusion facilitators to undertake activities in the community (monthly, 3–4-hour excursions) and over zoom conferencing (monthly, 1.5-hour peer meetings) to follow a socially based learning framework supporting young Vietnamese carers to develop knowledge and skills to help them in their caring roles while maintaining their own health and wellbeing.
Bilingual assessment will be done so that a full understanding of each carer's situation, interests and goals can be understood. Outcomes will feed into learning framework design and community excursion planning. Up to 10 Young Carers aged 13-17 years living in the western metro region will benefit from this program.
More information on the VƯƠN CAO PROGRAM

Enquiries regarding any of the programs can be directed to info@extendedfamilies.org.au